IT PROJECT DELIVERY
Dot Ones has a proven track record of promptly delivering on IT projects of various sizes; ranging between implementing Cloud solutions for UK's small business sector to evaluating security standards for multi national companies located world wide.
MANAGED IT SUPPORT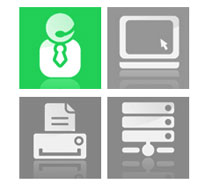 Dot Ones offers a multi-layered support program that combines standard IT systems support, 24/7 customer support and 24/7 critical systems monitoring to ensure that your business will always have the IT support it needs, regardless of the time of day. We provide around the clock customer support for those times when you have a question or need help but don't have your IT company onsite.
No matter how small your business is, or how unique your IT network might be, Dot Ones can offer you a complete support program that is customizable to your unique IT needs. To learn more about complete support, please click here.
IT MAINTENANCE & MONITORING
In addition to standard support, the best IT companies offer 24/7 critical systems monitoring to track, log, and repair your business servers, firewall, and applications. Critical systems monitoring focuses on ensuring that your business' most important IT elements are functioning appropriately. With critical systems monitoring, If a problem is detected, a team of centrally staffed experts will immediately gain access to your IT network through a secure online connection and repair the problem remotely so your network is up and running with minimal downtime.