a hand pick of the tools we use
Design and Implementation
Cloud Solutions describe a new supplement, consumption, and delivery model for IT services based on Internet protocols, and it typically involves provisioning of dynamically scalable and often virtualised resources
On-premises Solutions are predominantly software and hardware installed and run on computers on the premises (in the building) of the person or organisation using the software
Hybrid Solutions describe a fully functional IT infrastructure built and designed using on premise software and hardware solutions as well Cloud software and hardware services.
Planning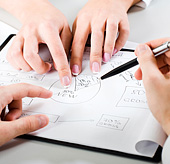 Planning an implementation of the IT infrastructure requires various considerations and elements to be taken into account and for that reason at Dot Ones we tend to run detailed audits of the clients equipments and setup in order to setup solutions which are not only tailored to the clients requirements but also provide the flexibility of growing with the business.
Dot Ones Technology specialises in supporting clients whom are specifically located and operate globally and have special needs in terms of the required support and infrastructure. The flexible hours of support provided by Dot Ones also allows the business to operate with a peace of mind knowing that at any point in time there will be an engineer available to assist with incoming queries and requests.
read more