who we are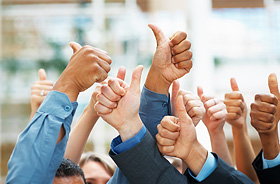 Dot Ones Technology is one of Londons successful IT startups who has managed to pull together a magnificent portofolio of clients locally and internationally. Dot Ones Technology has been providing IT support to business sectors including Marketing, Branding, PR and Consultancy services locally and globally.
We collectively holds around 30 years of IT experience between its employees. The level of experience and our focused approach to specific business sectors has allowed us to provide seamless, targetted and tailored IT services to all of our clients.
Dot Ones Technology specialises in supporting clients whom are specifically located globally while the flexible hours of support allows the business to operate with a peace of mind.
strategy and approach
Quite clearly the UK seems to be drifting away from the manufacturing culture and entering the new era of service based businesses. As a result of this, a multitude of business sectors are introduced on a daily basis in the UK and globally, therefore understanding each and every business's IT needs and solutions requires a great a deal of time.

In a market where IT support companies tend to provide a generic service to all clients, irrelevant of the sector the businesses are involved with, problems become unsolvable, solutions are impractical and as a result of that businesses face serious difficulties.

We have become the UKs first IT support company to provide tailored and specialist IT support to certain UK business sectors. This has attracted a serious amount of attention from different companies and allows us to clearly understand a specific sectors needs and to provide practical and efficient solutions.
job opportunities
Helpdesk Engineer – if you have at least 12 months of experience working as a support helpdesk and wish to join a buzzing and energetic company to grow your skills, then get in touch with us.
Senior Microsoft Engineer – We're currently looking for a 3rd level Microsoft Certified Engineer with 4 years of solid experience with MS server and software.
Field Engineer – Field engineers are required to attend client sites on a daily basis and therefore will be working out of the office for the majority of the time. if you have good communication skills, outstanding customer facing skills and pack at least 3 years of experience in the IT support sector, then welcome aboard.